What We Believe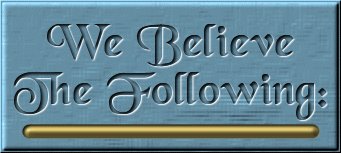 1. We believe that the Holy Bible is the inherent, God-breathed, God-inspired, written word which was written by God himself through man.

2. We believe that Jesus Christ is God the Son, and is the Son of the Most High God, who was sent to earth by God the Father, to be a Savior for the world.

3. We believe in the death, burial, and resurrection of Jesus Christ, who is now seated in Heaven at the right hand of God the Father.

4. We believe that there is only one way to be saved from sin and death, and that is through the acceptance of Jesus Christ as a personal Savior.
5. We believe that salvation is through grace, the unmerited favor of God, and not through any works by man outside the work accomplised at Calvary through the Cross.

6. We believe that it is only through the shed blood of Jesus Christ that sins are forgiven and cleansed, and will be forgiven through confession.
7. We believe in prayer, fasting, praise, worship, and thanksgiving to the Father, and all prayer is to be done in the name of Jesus.

8. We believe that there is only one God who is manifested in three persons: God the Father, God the Son, and God the Holy Spirit.

9. We believe in the gift of the Holy Spirit whereby he (the Holy Spirit) dwells in and with all believers. We believe in the gifts of the Holy Spirit.
10. We believe that Heaven is reserved for all believers whose names are written in the Lamb's Book of Life, and the lake of fire is reserved for all those unbelievers whose names are not written in the Book of Life.
11. We believe in Godly sorrow for sins to bring about true repentance to God for the forgiveness of sins.

12. We believe in spiritual warfare whereby Satan and his demonic forces war against the people of God seeking any means necessary to steal, kill and destroy the people of God.